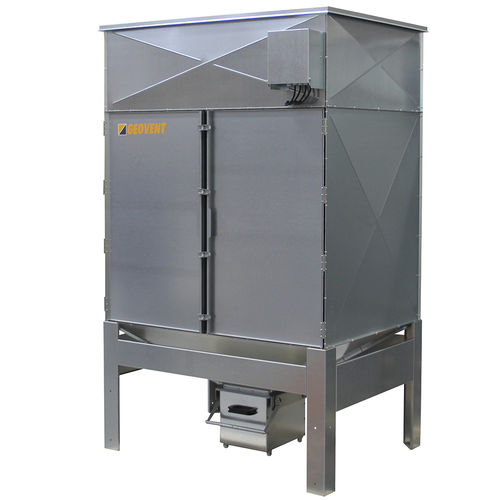 Characteristics
Technology:

cartridge

Backflushing:

pulse-jet backflow

Other characteristics:

self-cleaning, for welding fumes, for grinding dust

Output:

Max.: 50,000 m³/h (1,765,733 ft³/h)

Min.: 400 m³/h (14,126 ft³/h)
Description
The GFB2 filter is the complete solution when it comes to cleaning extracted air efficiently.
The filter removes as much as up to 99,97% of hazardous particles from the extracted air. The GFB2 filter is used in a wide range of businesses, primarily industry. It is used for filtering air from processes such as welding, grinding, sanding, plasma-/laser cutting and powder coating.
The filter´s capacity is an airflow up to 7.200 m³/h, and can be connected in parallel, if needed. By default, the filter is delivered with a cleaning system, using shots of compressed air, to clean the filter cartridges from excessive dust. As standard, it comes with an filter control unit (timer based as standard, differential pressure upon request) and an easy to move collection bucket. Geofilter GFB2 is made from galvanized sheet metal, and has easy service access, with hatched double doors.
We do not normally recommend placing the filter outdoors due to condensation issues. If the filter is placed outside, however, we suggest using a protective roof to shield the filter from rain.