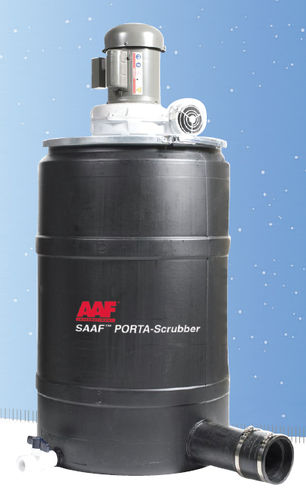 Characteristics
Type:

dry

Type of gas:

chemical

Other characteristics:

compact, portable, packed-bed
Description
Product Overview
Units available as Powered and Non-Powered
Ideal for a wide variety of applications
Suitable for outdoor installation
Compact design is space-efficient while reducing capital and installation costs
Quick, easy installation and operation in a self-contained system — virtually maintenance-free
Corrosion-resistant, cast aluminum fan
Designed to remove gaseous and particulate contaminants from the airstream in the most demanding applications
Ultra-high capacity SAAFCarb™ MA.HT chemical media provides complete contaminant removal and longer service life than conventional scrubber media currently available
Typical Applications
Waste Water Treatment
Waste Management
Pharmaceutical
Pulp & Paper
Oil & Gas Transmission
Microelectronics
Food and Beverage
Easy Installation
The compact design of the SAAF PORTA-Scrubber is space-efficient and reduces capital and installation costs. Installation is quick and easy, and the system is virtually maintenance free.
Adjustable Air Flow
Air flow is adjustable by a damper placed on the inlet of the blower. The damper varies from fully open to 3/4 closed, providing a simple and cost-effective means to adjust air flow.
Bulk Fill Configuration
The SAAF PORTA-Scrubber provides the highest available levels of contaminant removal, by using a bulk fill gas-phase media arrangement that eliminates contaminated air by-pass and leakage from the system. This provides a high media-to-air flow ratio, maximizing the life of the gas-phase media.