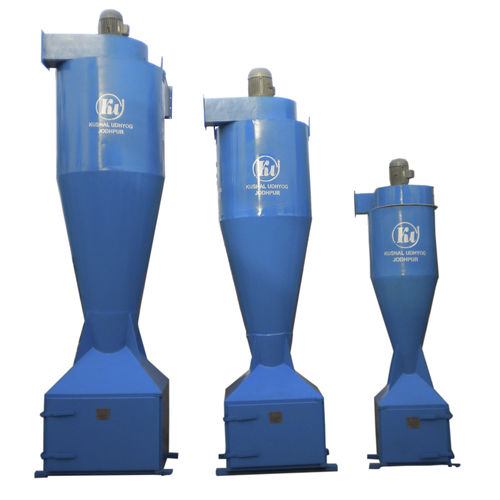 Characteristics
Technology:

inertial separator

Backflushing:

pulse-jet backflow

Output:

Min.: 1,500 ft³/min (42 m³/min)

Max.: 10,000 ft³/min (283 m³/min)
Description
Cyclone Dust Collector :
These Dust Collectors works on the 'Cyclonic Separation' of heavier particles from dust laden due to cyclonic action. The dust laden enters the cyclonic dust collector in radial direction. The suction created by the exhaust fan causes the cyclonic action. Thus heavier and medium particles falls down and collected in the bottom tray of dust collector, while fine particles are exhausted to the atmosphere through outlet of exhauster. These are also used for primary separation of the dust particles.
Fabric Dust Collector :
The dust laden air enters in housing due to the suction created by the exhaust fan and passes through fabric bags. Coarser and medium dust particles falls into the bottom of the tray / hopper of the dust collector due to the loss of momentum. The fine dust particles gets deposited on the inner surface of the fabric bags and clean air passes across bag surface and subsequent into atmosphere. The bag shaking arrangement is manual for small housing while bigger size fabric bags are incorporated with motorized bag shaking arrangement operated through timer.
Cartridge Dust Collector :
The dust laden air enters in housing due to the suction created by the exhaust fan and passes through the cartridge elements. Coarser to fine dust particles falls into the bottom of the tray / hopper of the dust collector due to the loss of momentum. The very fine dust particles gets deposited on the inner surface of the cartridge and clean air passes across bag surface and