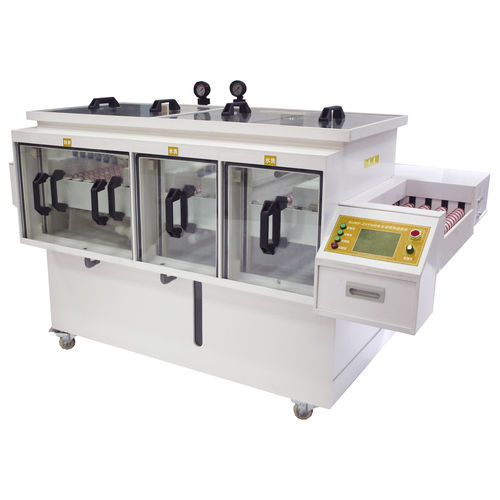 Characteristics
Applications:

for the printing industry
Description
Full automatic OSP anti-oxidation machine SUNY-ZYH500
1. Purpose: OSP processing to surface welding plate of the circuit board, in order to achieve anti-oxidation and welding-assisting;
2. Control system: high-performance ARM embedded processor + embedded operating system, human-computer interface: big screen color LCD screen + touch screen; In touch screen you can read electronic edition OSP process manual ; In touch screen you can play the video file of OSP process;
3. The machine adopts anticorrosive PVC material, with excellent anti acid and alkali performance;
4. The roof and the front of the machine both have double completely transparent glass windows, so the whole process can be observed;
5. With level automatic in board detection function, it can stop automatically in a due time, to make the machine operation more intelligent and automatic;
6. With up and down spraying pressure testing and adjustment function, it can make some adjustment to up and down spraying pressure according to the technical requirements
7. With liquid level instruction window, you can understand the liquid level of the machine in real-time;
8. The machine configures four universal caster wheels for more convenient location adjustment of the equipment;
10. T9he effective work area: double-sided plate of 400 mm width; double-sided plate of unlimited length;
10. Working mode: PCB automatically in and out board, automatic high pressure spraying up and down double-sided and level water bed convection
11. Working time: 10min~30min adjustable
12. Temperature setting: 20~55°C
13. Power supply: AC380V/6KW;
14. Overall dimension: 2210*950*1100mm;
15. Net weight: 420KG.