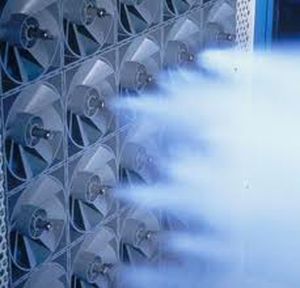 Characteristics
Portability:

stationary

Product:

air
Description
One drop of moisture. No sweat. Multiply that drop by 100 and you have rust. Times 1,000 and you have a puddle. 1,000,000 drops and you could have a real problem on your hands.
Corrosion can be defined as a change from one form to another through chemical reaction, often times, and the presence of moisture in the air accelerates the reaction.SYNCO designs and builds a unique and economically operated Air washer type air conditioner for ventilation system of Abrasive Blast and Paint Booth.
dehumidification-system
THE BASIC SECTIONS OF AN AIR WASHER:
The basic components of an air washer system are a chamber that contains a series of spray nozzles, an eliminator section that removes water from the air that is exiting the air washer and a sump which catches both the sprayed water droplets and the water that was collected by the eliminators. The spray section will dehumidify the air, while washing solid particles out of the air.
The eliminator section forces the air to contact the eliminator components, which in turn knocks down water droplets and air borne solids.
The sump is the collection basin for the system. The washed out solids, lint, dust, and water all collect in this area.
dehumidification-system2
FUNCTIONS OF AN AIR WASHER:
1. Cool the air.
2. Dehumidify the air.
3. Clean the air of particles.
4. Hyper ionize the air.