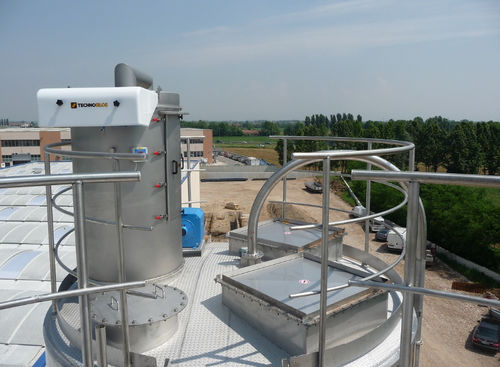 Characteristics
Portability:

stationary

Product:

air

Air flow:

Min.: 150 m³/h (5,297.2 ft³/h)

Max.: 9,000 m³/h (317,832 ft³/h)
Description
BENEFITS
•High efficiency.
•Smaller dimensions.
•Low energy consumption.
APPLICATIONS
The elimination of condensation from silos and weighing hoppers for hygroscopic products such as icing sugar.
OPERATION
Technosilos absorption dehumidifiers benefit from low energy consumption to achieve extremely low dew points in any working condition. A rotor made from hygroscopic fibers with a diameter of ≥ 6 microns (and so non-inhalable by humans) guarantees performance while remaining safe for end users. Units come complete with power and control panel.
TECHNICAL DATA
•Air flow rates from 150 m³./h. to 9,000 m³./h.
• All units are available with Aluzinc or stainless steel paneling and thermally insulated.